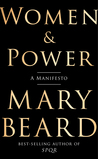 Women & Power: A Manifesto by Mary Beard
My rating: 5 of 5 stars
Mary Beard is a professor of classics at the University of Cambridge. This is a short book with two lectures by her on the subject of women's participation in politics and public life. I will not try to give a comprehensive summary, but here is a quick look at each of them.
The first one is "The Public Voice of Women," which examines how women's voices have been ignored in the public sphere. Here is the beginning:
I want to start near the beginning of the tradition of Western literature, and its first recorded example of a man telling a woman to shut up; telling her that her voice was not to be heard in public. I am thinking of a moment immortalized at the start of Homer's Odyssey, almost 3,000 years ago… Penelope comes down from her private quarters into the great hall of the palace, to find a bard performing to throngs of her suitors; he is singing about the difficulties the Greek heroes are having in reaching home. She isn't amused, and in front of everyone asks him to choose another, happier number. At which point young Telemachus intervenes: "Mother, " he says, "go back to your quarters, take up your own work, the loom and the distaff … will be the business of men, but me most of all."
The second lecture, "Women in Power," examines the portrayal of powerful women in history and literature. Beard argues that "our mental, cultural template for a powerful person remains resolutely male." This one is maybe a bit more wide-ranging than the first lecture; it opens with a discussion of Herland by Charlotte Perkins Gilman, which I have not read, and discusses examples of sexism in myth, popular culture, and history.